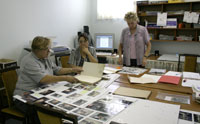 The Historical Archives for Slovenian Australians -
( HASA), was officially registered on 9th February, 2003. It is a non-profit organization, relying solely on the financial support of the community and grants from various institutions.

It was established under the auspices of ZRC, SAZU ( Znanstveno Raziskovalni Center, Ljubljana) and the guidance of Dr. Breda Cebulj Sajko. It is fully managed by a committee of volunteers

It is also registered officially as a charity (ITEC) and is located at the St Raphael Mission, Merrylands
The purpose of the organization is clearly outlined in its constitution, but overall, it is operated exclusively for the safeguarding of historical records of the Slovenian community in NSW and the promotion of the Slovenian culture.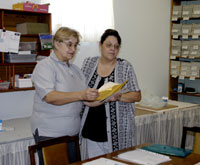 HASA has now reached a milestone. We are about to officially open the archives centre at 7pm on Friday 30th April, 2004. To celebrate and coincide with this occasion, we are launching an exhibition titled "Sadovi Slovenske Dedišcine" and a book of he same name.

 

 

The exhibition, in the hall of St Raphael Church, Merrylands, will be open to the public until Monday, 9th May. The book will be available through HASA. Further information will be forthcoming.Invitations have been sent to all members of the community, who are highlighted in the book or have supported HASA in any way. We are issuing a general invitation to the community to attend this occasion, however and hope many will take the opportunity to attend.

Olga Lah (President)